HI ihr Lieben!
Nachdem ich euch bereits gestern gezeigt, was alles schönes neues ins Standardsortiment von Catrice kommt, möchte ich euch hier die Artikel zeigen, die den neuen weichen müssen:
Für eine größere Ansicht in neuem Tab öffnen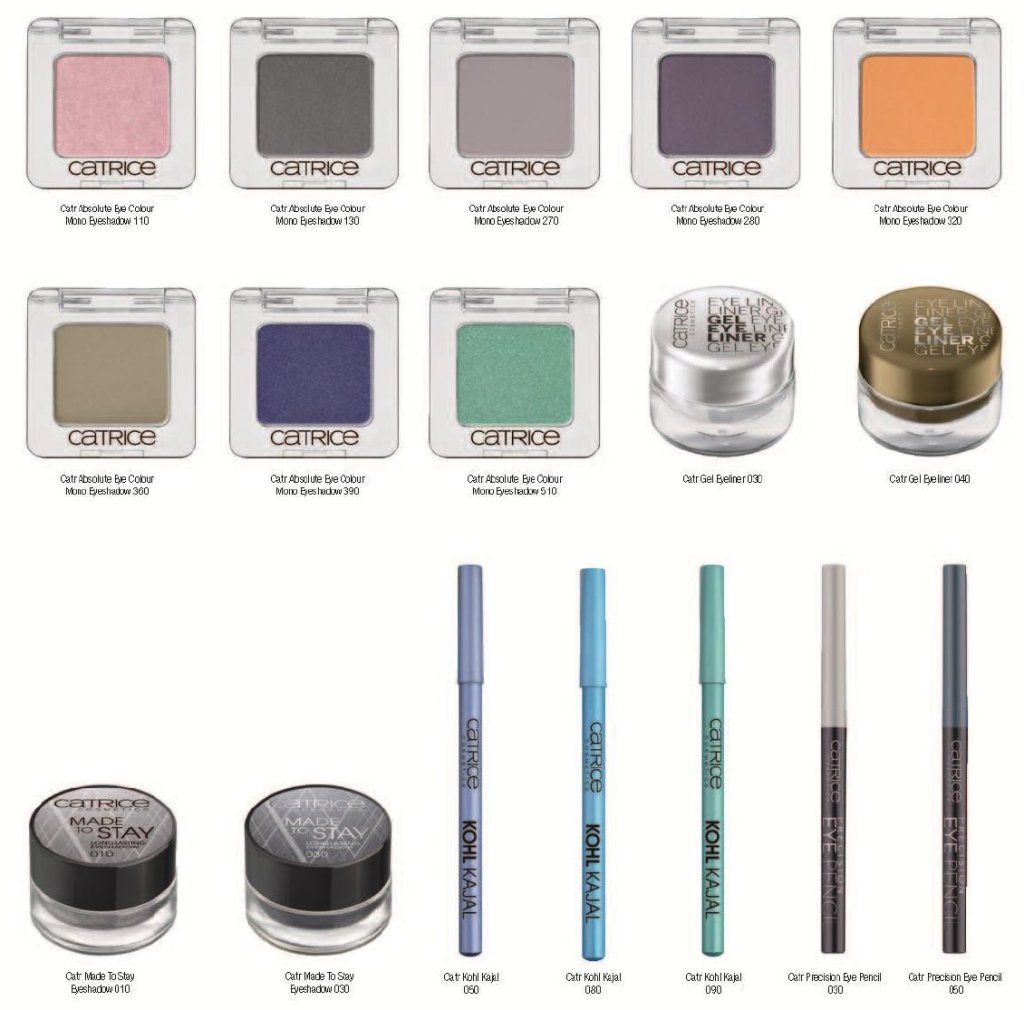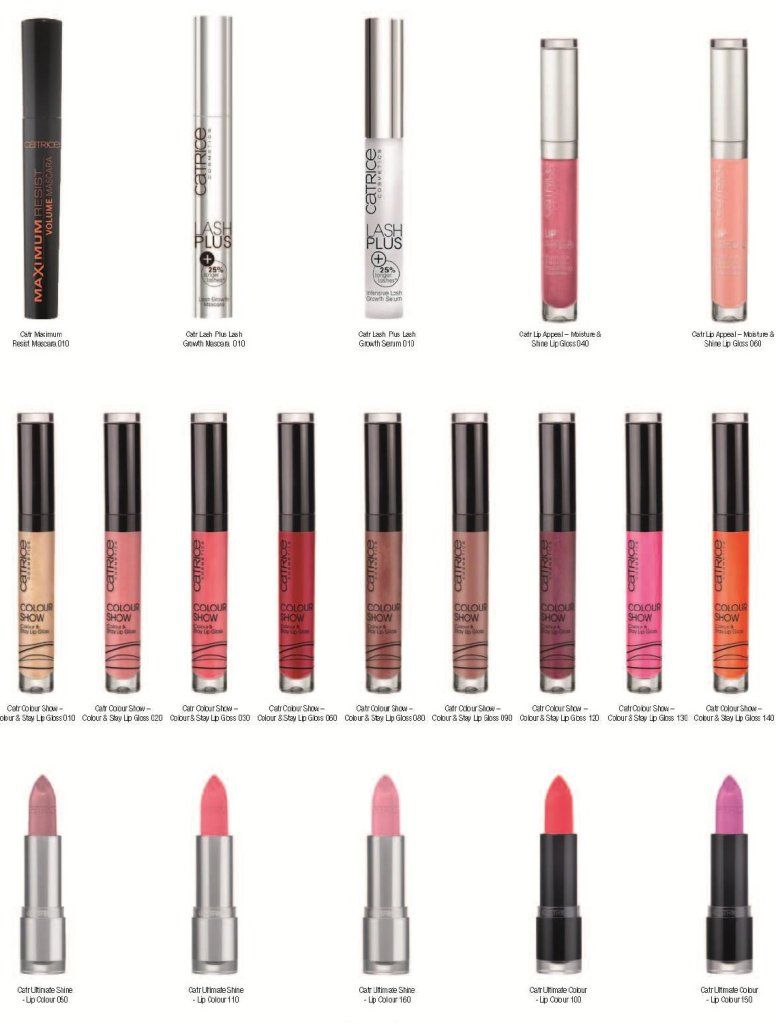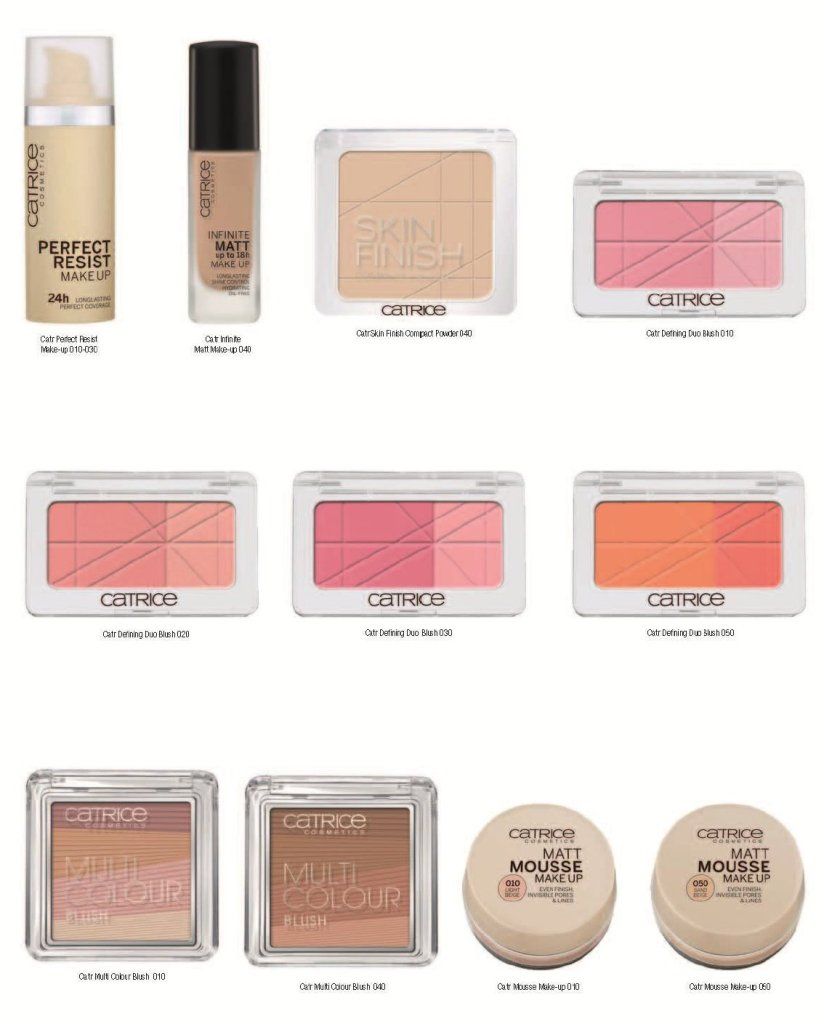 Hier nochmal eine Liste mit den Namen:
Absolute Eye Colour Mono Eyeshadow
110 Gilbert's Grapefruit
130 Sitting On A Volcano
270 Grey's Philosophy
280 Heidi Plum
320 Dalai Drama
360 We Still Support Green Peace
390 Top Of The Cops
510 In Love With Hulk
Gel Eyeliner
030 In Love With A Robot
040 Sherlock And Khaki Holmes
Made To Stay Longslasting Eyeshadow
010 Pearl Habour
030 Star was Here
Kohl Kajal
050 Jet Set Affair
080 Lucy in the Skys
090 Would You Mint?
Precision Eye Pencil
030 Silver Stallone
060 Khakitoo
Maximum Resist Mascara
010 Black
Lash Plus Mascara
010 Black
Lash Plus Serum
010
Lip Appeal Lip Gloss
040 Hello, Darling!
060 Coralista
Colour Show Lip Gloss
010 Toast with Champagne
020 Oh, So Chic
030 Pink Me Up
060 Little Red Dress
080 Nude-Tritious
090 No.9 is Mine
120 Pearl Jam
130 Flirty Fuchsia
140 Peach Boy
Ultimate Shine Lip Colour
050 Simply Rosewood
110 Shy Flamingo
160 Pink Panther
Ultimate Colour Lip Colour
100 Lobster Love
150 Lovely Lilac
Perfect Resist Make Up
wird komplett aus dem Sortiment genommen
Infinite Matt Make Up
040 Bronze Beige
Skin Finish Compact Powder
040 Apricot Beige
Defining Duo Blush
010 Raspberry Ice Cream
020 Peach Sorbet
030 Pink Grapefruit Shake
050 Apricot Smoothie
Multi Colour Blush
010 Riviera Rose
040 Pacific Beauty
Matt Mouse Make-up
010 Light Beige
050 Sand Beige
Ultimate Nail Lacquer
220 Lost in Mud
330 Absolutely Chinchilly!
410 Pool Party At Night
560 Rusty But Sexy
610 ASHley
620 Captain Sparrow's Boat
630 Sing: Hey, Dirty-Lila!
670 It's Rambo No. 5
700 Birdy Reloaded
860 Browno Mars
Ultimate Nudes
040 Petit Four As Dessert
hmmmmm.... und was davon werd ich mir noch zulegen?! keine Ahnung! Ich werde mir die Blushes nochmal genauer anschauen. Evtl. Lidschatten und Lippenstifte und vllt noch den ein oder anderen Nagellack?!
werdet ihr was vermissen?