HI ihr Lieben!
Ich melde mich mit einem Nails Of The Weekend zurück!
Am Wochenende habe ich "Shoe-Bee-Doo" aus der diesjährigen Manhattan & Buffalo LE getragen. Diesen Lack habe ich bereits seit einigen Monaten, jedoch habe ich mich noch danach "gefühlt" ;) Bei diesem Wetter hat sich das aber ganz schnell geändert... Ich glaube ich bin jetzt Nagellack-technisch auch endlich im Herbst angekommen ;) Zumindest gerade jetzt ;)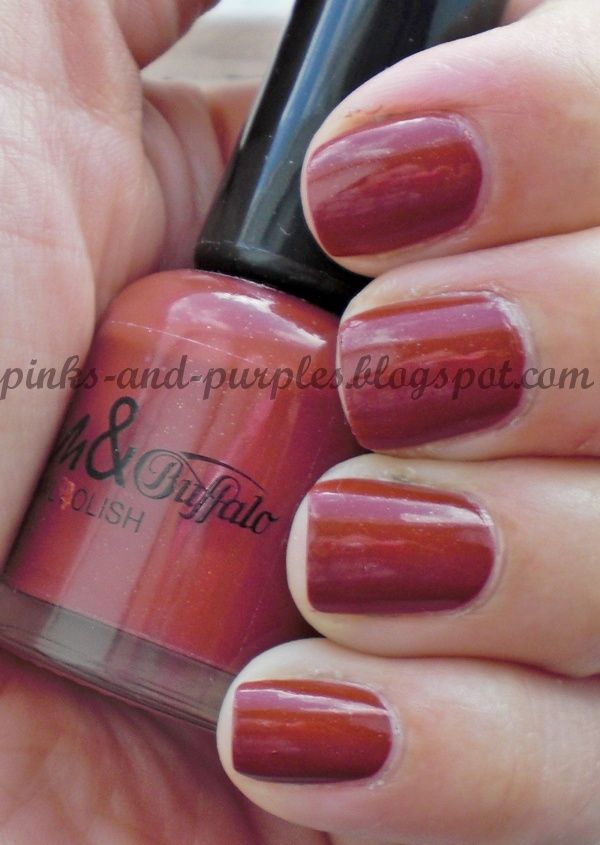 Shoe-Bee-Doo ist ein Ziegelrot, dass einen feinen goldenen Schimmer enthält. Dieser ist jedoch auf den Nägeln nicht von Anhieb zu erkennen. Der Lack deckt mit zwei Schichten und hat drei Tage ohne Macken o.ä. ausgehalten.
PS:
Ich bin leider nicht ganz zufrieden... Mit meiner Nagellänge :( Ich mag meine Nägel so raspelkurz einfach nicht... Aber ab und an muss das einfach sein... Was für einen Unterschied allein die Nagellänge ausmachen kann, wie ein Nagellack wirkt... Aber zum Glück wachsen meine Nägel ja immer schön schnell nach :)